How to Check Vodafone Number Code in 2 Easy Ways
Hi, Vodafone users here is good news for you if you don't know how to check Vodafone number on your phone then we write in this article about it. when you get a new Vodafone sim you have to know something about this. you have to know your Vodafone mobile number. this is the most essential thing for every Vodafone users. so if you don't know to check Vodafone number then this article is very important for you. keep with us and know about it.
Vodafone is one of the most popular and famous telecom companies of all time. most of the people use this Vodafone sim on their phone. After you insert the sim on your mobile the first thing is knowing your number. If you don't know no how do to check Vodafone SIM number then follow this article to check Vodafone mobile number. In this article, so checking Vodafone number without any balance on the internet. Follow this article carefully and know about how to check Vodafone mobile number.
You may also like
How to Check Vodafone Net Balance
Check Vodafone number
Every Vodafone users have to know their mobile number. It is very essential for them. Don't worry if you forgot your Vodafone number now check Vodafone number so easy. if you have balance in your mobile number then you can call anyone to know your number but here we are writing about if you have not any balance or internet, or you have internet but don't have any balance for those people right here some easy processes of check Vodafone mobile number. Here we show two easy processes to check Vodafone SIM number.
Check Vodafone number using USSD code
Check Vodafone mobile number using my Vodafone app
Check Your Vodafone Number Using USSD code
As we know All telecom companies have their own and unique USSD codes for their customers show Vodafone also has some USSD codes To knowing information about Vodafone sim. There are too many USSD codes for Vodafone on the internet today but here we show only those USSD codes from which you can check Vodafone number easily.
Dial *111*2# or *555# or *131*0#
This is an easy and simple way to check your Airtel mobile number. Insert your Vodafone SIM on your phone and make sure the SIM is activated. Then open dial pad on a phone and dial any USSD codes among those USSD codes we wright here. You can use USSD codes any time from your mobile phone without any balance or internet to your check your Vodafone mobile number.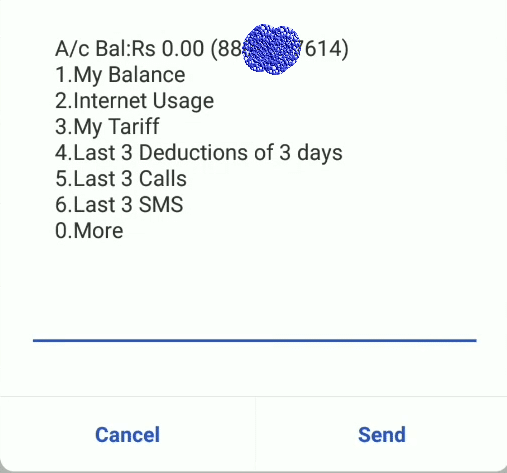 Also, you can dial 111 and 198 To listen to your number from Vodafone services. For this process you have to dial this USSD code on the phone Then you will listen to your number, data balance, balance, and many more about your mobile number by IRV.
You can check your Vodafone mobile number on my Vodafone app. If you are using iPhone then go to your app store and if you are using Android then go and install my Vodafone app here.
At first download and install my Vodafone app on your smartphone then open it and login with your Vodafone mobile number and OTP. Once you log in with your Vodafone mobile number you can find this number every time in this app. Through this app, you can get more benefits from Vodafone. You can check here balance, data balance. You can pay a bill from here online recharge it's so easy now from this app. So download My Vodafone app and enjoy it.
Frequently Asked Questions
1.How I check my Vodafone number?
 you can check your Vodafone number by using USSD code and my Vodafone app. so download My Vodafone app on your phone and if you want to get it from USSD code then dial *111*2#.
 2.what is the code to check  Vodafone number?
there are many USSD codes on the internet today but here we so one simple code to you *111*2#. 
3. how do I know my Vodafone Number 2019?
You can know your Vodafone mobile number by dial USSD codes or downloading my Vodafone app on your phone. 
Final Word
Hi friends, in this article we tried most to give you the best article that you want. We show in this article how to check Vodafone Number on your phone. We hope you like this this article so much. If you think so then comment on us to encourage us to write this types of article for you. So enjoy the day and be happy, Thank You!!