Google Account Verification bypass FRP Lock On Android Devices 2021
How to Google Account Verification bypass FRP Lock On Android Devices 2021 without pc
Hello, Android user today I will tell you How to bypass Factory Reset Protection(frp) lock on the Android device without pc.  There are many processes available for bypass frp lock without computer or any pen drive. I am going to show you one process for bypass frp lock from android device without pc or penderive. So let's get started. If you follow this process then you will easily bypass frp lock from android device.
Google introduced a new security feature for Android versions Lollipop or upper is called factory reset protection. If your reset your android device from Recovery mode, the phone will require you to verify your Google account. If you remember your previously used Gmail username and password, then you can easily access your phone without any problem. Or if you forgot your previously used Gmail username and password then follow this method for bypass frp lock.
Guide to bypass frp lock or Google Account Verification on android devices
Step 1: First, choose your language and then click the next button.
Step 2: Then connect any "Wi-Fi" in your android device.  Then back from verifying your account page.
Step 3: Then click on "Add another network" and then type any word on Enter the SSID. And long press the word that you type and then click on share.

Step 4: Then long press Gmail app and it will open the Gmail app info. Then click on Notification. Then click App Settings.
Step 5: Then tap on three dots and then click on Manage Account. Then click on continue for open setting.
Step 6: Then click on Apps then scroll and you find Google app and tap on Google app and it will open Google app info.
Step 7: Then click on notification > App Setting >Feed.
Step 8: Click on No Thanks. And you will get the Google Search bar.
Step 9: In Search bar Type Chrome. Then click on chrome for open chrome browser.
Step 10: Then Download Two application
Step 11: Once downloading finish, then you will see the downloaded file popup, and then click on open.
Step 12: Then tap on Google Account Manager App. then you will get a popup of "Installation Blocked" the simple click on setting and enable unknown sources. Then install Google Account manager app.
Step 13: after installing Google Account manager then click on Easy Frp Bypass app and install it. After installing Easy Frp Bypass then click open.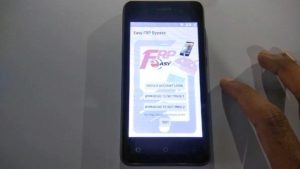 Step 14: then click on Google Account Login Button. Then click on three dots. And tap Browser sign-in. Then enter a fresh Google account. And restart your Phone using the power button.
Step 15: That's all. If you follow this process then you will easily bypass frp lock from android device.