Download Samsung Odin Flash for Windows [All Version] 2021
Odin is a very useful firmware flashing tool that provides the root access of the device. If you want to get the advanced features then you should download Samsung Odin Flash. it is very useful and also a powerful flash tool for users.
If you are looking for Samsung Odin then stay here. Here we discuss it very easily and simply. Odin is the official firmware flashing tool of Samsung devices for Windows PC. If you want to flash custom firmware then Odin is the most important tool. Samsung Odin allows us to flash the custom/stock firmware and simplify the system of the mobile phones for easy working.
Samsung Odin Flash tool also provides ROM flashing to its users. It can optimize device performance and also Custom ROM. It has too many incredible features that can make you awesome. So follow the post to the end to know all about it.
What is Samsung Odin?
If you have a Samsung smartphone or tablet then you must be familiar with Odin. As we say before Odin is a very useful and powerful flash tool. It detects when your device is in Download mode. It also flashes firmware and recovery files with .tar extension. Odin is developed by Samsung that specially made for Samsung service centers. But the versions we use actually the leaked version of official Odin. But it not to be distributed publically.
It is especially for Android based Samsung devices but it also supports any Windows version is available here. Using this tool you can install official and unofficial firmware without any restriction. So know the installation process soon and install it.
Recommended for you: Download Minimal ADB and Fastboot Latest Version [1.4.3]
Download Samsung Odin Flash for PC
As we know the Odin flash tool works with Windows PC. So we share the all download link here for PC. But if you are a Mac or Linux user then you should use Heimdall or java Odin. Here we share all downloading links for Windows and also for Mac users.
Most of the Samsung users don't know the installation process. Don't worry, we have given download links of Odin of all versions. And also show the installing procedure step by step. Here we share the latest version Samsung Odin and also old versions. First, see the installation process and follow the method step by step.
But before download you have to know some prerequisites.
Prerequisites:
You have to download and install the latest Samsung USB Drivers on your PC.
Odin tool supports only Samsung devices.
This tool works on Windows 10, 8, 8.1, 7, XP.
If Samsung kies software is running when you using this tool then it can interrupt the process.
How to Install Samsung Odin Flash on Windows PC
To download Samsung Odin Flash tool you must sure about prerequisites. It is too easy to download and install Odin on Windows. You just need to follow the steps that we show here. Let's follow the steps.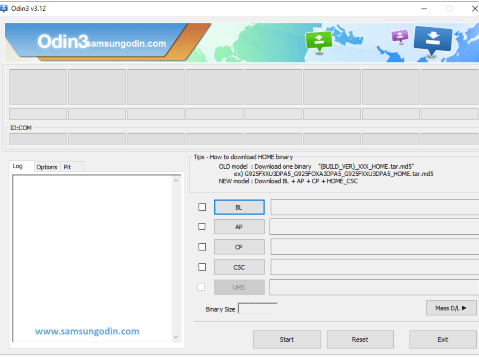 At first download Odin Tool from the link, we have given below.
Now you have to extract the file using a tool like WinRAR on your PC.
After that open the extracted folder.
Now Double click on Odin.exe file.
Then you can see a warning message, click on the OK.
Now it is ready to use on your PC.
After Android 6.0 Marshmallow
Download Java-Odin and Heimdall for Mac and Linux
What Samsung Odin Flash-Version should You Use?
It is one of the most important questions. If you are using a higher or lower device then what Odin version is perfect for your device? It is important to know the particular version for a particular device and a specific firmware version. We show all versions here with the device Android version. So it is easier to find the perfect one for you. But here we tell more detail about it. Follow it to the end.
Most of the Samsung users think that any version of Odin is compatible with any device. As we know that Odin is a firmware flashing tool and it comes every year for more efficient working ability. Samsung also releases hundreds of smartphones and tablets every year. All phone has different versions. So it is important to know the particular Odin version for your device. So we recommended you to follow the list we show above and download the specific version.
Frequently Asked Questions
Does Odin root my phone?
Odin is the most important tool to flash the phone. It also used to root Samsung Android devices but itself can't root any devices.
How long does the Odin tool take to Flash?
As we know that there is so many Samsung Android version. And for a particular version, there is a particular Odin. So it depends on the whole thing to flash. Basically the size of the file is most important. Usually, it takes almost 5-10 min to flash.
Does flashing with Odin wipe data?
If you want to flash only system file i.e AP or PDA file then it does not delete any data on the phone. But when it flashed with AP, BL, CP, and CSC file then it will erase all data in your Phone.
Does using Odin void warranty?
If you want to use Odin only for flashing then it does not void the warranty. But if you use it for rooting then it voids the warranty of your device.
Final Word
So we hope you follow the article to end and you like this post. Here we show how to download Samsung Odin Flash tool for PC. We hope you satisfy with it. If you face any problem doing this procedure then comment us on the comment section. We will solve your problem as soon as possible. So download Odin on Windows PC and enjoy it. Thank You!!